CV030 - One-Line Puzzle 1
This is the thirtieth puzzle that appears in Professor Layton and the Curious Village. To access this puzzle, you must talk to Agnes. In order to solve this puzzle, you must determine which shape cannot be drawn with one single line.
[edit]
Messages
[edit]
When Failed
Too bad!
It certainly looks like each picture was created in one stroke, but take a second look.
[edit]
When Completed
Very nice!
There's actually a very easy way to tell whether or not a given picture has been drawn in one stroke.
This method will be revealed to you after you solve one more of these riddles.
[edit]
Solution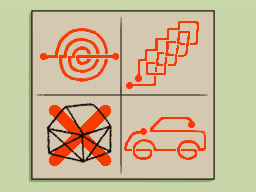 The image on the bottom-left cannot be drawn with one stroke.
[edit]
Progress
955 Picarats and 56 Hint Coins.