DB100 - A Rickety Bridge
This is the one hundredth puzzle you will encounter in Professor Layton and the Diabolical Box. To access this puzzle, you must continue forwards from the Dark Forest Exit. In order to solve this puzzle, you must guide Luke safely across the bridge, taking steps of one or three planks at a time with alternating feet.
[edit]
Messages
[edit]
When Failed
You cannot fail this puzzle.
[edit]
When Completed
That was some fancy footwork!
The ninth step you choose takes Luke to the goal. Make sure that the last step you put down allows Luke to step forward with his left foot.
[edit]
Solution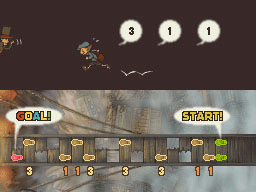 Guide Luke across the bridge as shown.
[edit]
Progress
3865 Picarats and 199 Hint Coins.