LS120 - Gallon Hat
This is the one hundred and twentieth puzzle in Professor Layton and the Last Specter. To access this puzzle, you must talk to Rosa. In order to solve this puzzle, you must arrange the pieces to create a bottle shape. After solving this puzzle, you will receive the course Rosa's Travels for the Train mini-game.
[edit]
Messages
[edit]
When Failed
You cannot fail this puzzle.
[edit]
When Completed
Correct!
And what a fine bottle you've made. It's a pity there's no juice to go inside...
[edit]
Solution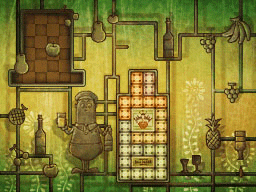 Arrange the pieces as shown.
[edit]
Progress
4825 Picarats and 279 Hint Coins.