MJ018 - Cosy up the Chicks
This is the eighteenth puzzle you'll encounter in Layton's Mystery Journey: Katrielle and the Millionaires' Conspiracy. To access this puzzle, you must investigate the lamppost to the right of Seán Butchin. To complete the puzzle, you must fit all of the chicks inside the enclosures.
[edit]
Messages
[edit]
When Failed
You cannot fail this puzzle.
[edit]
When Completed
You did it!
The chicks are all contained within the enclosures.
It's a little more cramped than expected, though.
[edit]
Solution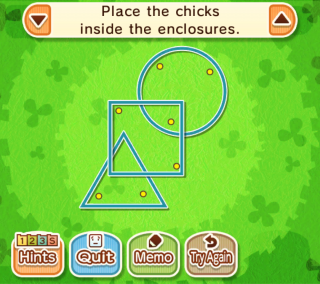 Position the enclosures as shown.
[edit]
Progress
665 Picarats and 54 Hint Coins.