UF068 - Paper Cuts
This is the sixty eighth puzzle you will encounter in Professor Layton and the Unwound Future. To access this puzzle, you must talk to Checker. In order to solve this puzzle, you must indicate where paper B must be cut so that the cutout shape will be the same as paper A's.
[edit]
Messages
[edit]
When Failed
Too bad!
It might be easier to grab a few pieces of paper and try figuring it out that way, but try solving it in your head first.
If you're thinking, "That should have worked!" perhaps you're making the size of your cut too big or too small.
[edit]
When Completed
You made the cut!
As shown in the image above, both pieces of paper will have the same shape cut out of the middle when unfolded.
Why not get a few pieces of paper and try it out for yourself? It's fun!
[edit]
Solution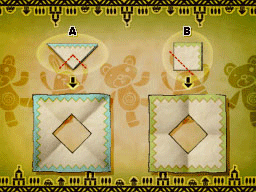 Draw a line as shown.
[edit]
Progress
2095 Picarats and 174 Hint Coins.