AL001 - Airship's Destination
This is the first puzzle you'll encounter in Professor Layton and the Azran Legacy. Raymond will give you this puzzle upon starting the game and watching a cut scene. To complete the puzzle, you must figure out the destination on the map.
[edit]
Messages
[edit]
When Failed
You cannot fail this puzzle.
[edit]
When Completed
That's right!
The airship's destination will be snow-clad Froenborg!
[edit]
Solution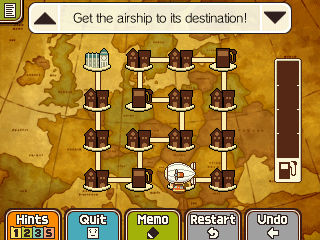 Take the path as shown.
[edit]
Progress
20 Picarats and 10 Hint Coins.