AL003 - Lighten Up
This is the third puzzle you'll encounter in Professor Layton and the Azran Legacy. To access this puzzle, you must interact with the street lamps. In order to solve this puzzle, you must arrange the street lamps without the same colors overlapping.
[edit]
Messages
[edit]
When Failed
Too bad.
Make sure you've read the rules carefully. Try checking that no two beams of light of the same color intersect anywhere.
[edit]
When Completed
Delightful!
What a beautiful sight! The carnival is sure to be a great success now!
[edit]
Solution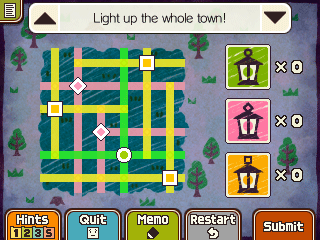 Arrange the lanterns as shown.
[edit]
Progress
80 Picarats and 20 Hint Coins.