AL005 - Embroidery Enigma
This is the fifth puzzle you'll encounter in Professor Layton and the Azran Legacy. To access this puzzle, you must talk to Prima and Donna. In order to solve this puzzle, you must arrange the embroideries in the correct order.
[edit]
Messages
[edit]
When Failed
Too bad.
Once you spot the sequence, you'll see it's actually very simple.
[edit]
When Completed
You've got it all sewn up!
A new patch design is added at the end of each stage of the sequence. Once all four designs have been added, the whole thing starts again from the beginning.
[edit]
Solution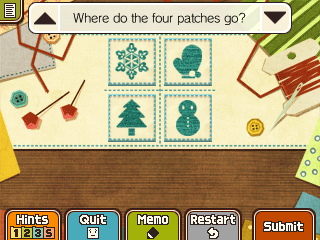 Arrange the patches as shown.
[edit]
Progress
140 Picarats and 26 Hint Coins.