AL006 - Frozen in Time
This is the sixth puzzle you'll encounter in Professor Layton and the Azran Legacy. To access this puzzle, you must interact with Aurora frozen in the ice. In order to solve this puzzle, you must divide the panels into four-square sections.
[edit]
Messages
[edit]
When Failed
Too bad.
You need to make sure that all your sections contain four squares. Check again and make sure you haven't missed any.
[edit]
When Completed
Nicely divided!
Hmm? The ice has started to rumble... What's going on?!
[edit]
Solution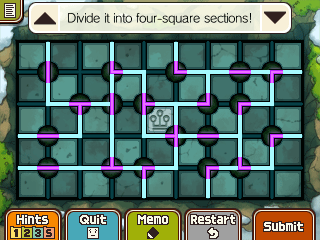 Arrange the beams of light as shown.
[edit]
Progress
170 Picarats and 30 Hint Coins.