AL009 - Dial Trial
This is the ninth puzzle you'll encounter in Professor Layton and the Azran Legacy. To access this puzzle, you must interact with the locked door. In order to solve this puzzle, you must line up the dials so that each side equals the same number.
[edit]
Messages
[edit]
When Failed
Too bad.
Make sure you haven't made a mistake in your calculations.
[edit]
When Completed
Won-dial-ful!
Each quadrant should have a total value of 15.
All right, it's time to push on!
[edit]
Solution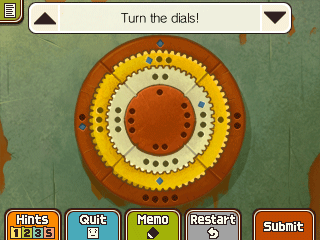 Arrange the dials as shown.
[edit]
Progress
260 Picarats and 33 Hint Coins.