AL012 - Squirrel Snacks
This is the twelfth puzzle you'll encounter in Professor Layton and the Azran Legacy. To access this puzzle, you must talk to Hazel. In order to solve this puzzle, you must calculate which two fruits are the second and third heaviest.
[edit]
Messages
[edit]
When Failed
Too bad.
Looks like you've got the wrong combination.
[edit]
When Completed
Fruity!
A and D are the squirrels' favourites!
[edit]
Solution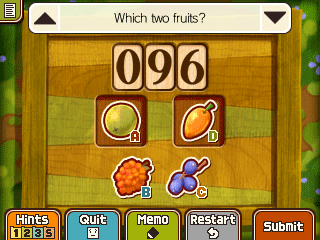 Choose fruits A and D.
[edit]
Progress
355 Picarats and 40 Hint Coins.