AL013 - Pretty Paper Petals
This is the thirteenth puzzle you'll encounter in Professor Layton and the Azran Legacy. To access this puzzle, you must talk to Sonya. In order to solve this puzzle, you must make sure the flower's petals do not have the same colors touching each other.
[edit]
Messages
[edit]
When Failed
Too bad.
All it takes to solve this puzzle is a good start. After that, everything falls into place.
[edit]
When Completed
Nicely sewn!
No real flower is quite so colourful, it has to be said.
[edit]
Solution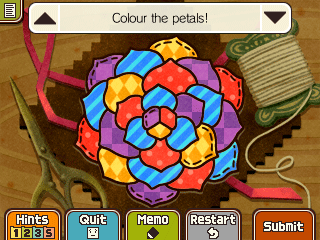 Color the petals as shown.
[edit]
Progress
395 Picarats and 48 Hint Coins.