AL016 - Give Me a Sign!
This is the sixteenth puzzle you'll encounter in Professor Layton and the Azran Legacy. To access this puzzle, you must interact with the fence. In order to solve this puzzle, you must assemble the sign and figure out which direction it points.
[edit]
Messages
[edit]
When Failed
Too bad.
Look closely at the weather-beaten sign before doing anything else.
[edit]
When Completed
That's right!
The arrow was carved out of the wood, exposing some of the signboard to sunlight.
So now the couple know that they need to make a U-turn. But that's pretty obvious when you're at a dead end...
[edit]
Solution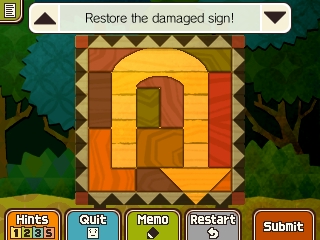 Restore the sign as shown.
[edit]
Progress
515 Picarats and 58 Hint Coins.