AL018 - The Celestial King
This is the eighteenth puzzle you'll encounter in Professor Layton and the Azran Legacy. To access this puzzle, you must talk to Aurora. In order to solve this puzzle, you must divide the land into ten areas using four sword strokes.
[edit]
Messages
[edit]
When Failed
Too bad.
It's a challenging puzzle, to be sure...
[edit]
When Completed
Delightfully divided!
The walls of the dome represent a map of the world, and you've just created five intersections with your lines.
Ever heard the saying "X marks the spot"?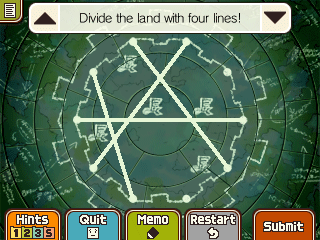 Place the lines as shown.
[edit]
Progress
585 Picarats and 64 Hint Coins.