AL023 - Choc-Full
This is the twenty-third puzzle you'll encounter in Professor Layton and the Azran Legacy. To access this puzzle, you must talk to Dean Delmona. In order to solve this puzzle, you must divide the chocolates to satisfy the children's requirements.
[edit]
Messages
[edit]
When Failed
You cannot fail this puzzle.
[edit]
When Completed
Choc-tacular!
All five of them are delighted with their treats!
[edit]
Solution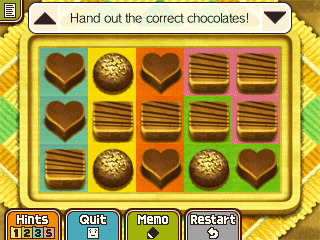 Divide the chocolates as shown.
[edit]
Progress
735 Picarats and 76 Hint Coins.