AL024 - Mutual Meeting Place
This is the twenty-fourth puzzle you'll encounter in Professor Layton and the Azran Legacy. To access this puzzle, you must talk to Brenda Triton. In order to solve this puzzle, you must figure out which bus stop the children are to meet at.
[edit]
Messages
[edit]
When Failed
Too bad.
Read what the four people have to say one more time.
[edit]
When Completed
Busted it!
Nice work, it seems like everyone managed to find each other... But what show are they going to dressed like that?!
[edit]
Solution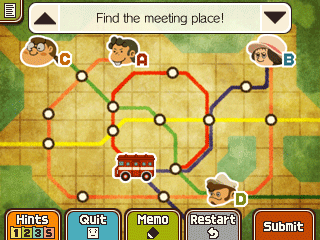 Place the bus marker at the bus stop shown.
[edit]
Progress
765 Picarats and 79 Hint Coins.