AL030 - Airship's Destination 2
This is the thirtieth puzzle you'll encounter in Professor Layton and the Azran Legacy. To access this puzzle, you must talk to Raymond. In order to solve this puzzle, you must figure out the destination on the map.
[edit]
Messages
[edit]
When Failed
You cannot fail this puzzle.
[edit]
When Completed
Flying high!
Navigation skills like these are bound to come in handy someday.
[edit]
Solution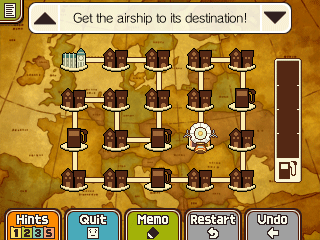 Create the route as shown.
[edit]
Progress
975 Picarats and 88 Hint Coins.