AL031 - For the Heart!
This is the thirty-first puzzle you'll encounter in Professor Layton and the Azran Legacy. To access this puzzle, you must talk to Hanna. In order to solve this puzzle, you must press the correct ten buttons to open the box.
[edit]
Messages
[edit]
When Failed
Too bad.
Look carefully at the stained-glass panels.
[edit]
When Completed
Stellar!
The ten lights combine to create the shape of a star, opening the box and revealing a wedding scene hidden inside. Could this mean that the boyfriend is proposing?!
(It all seems a bit far-fetched, doesn't it?)
[edit]
Solution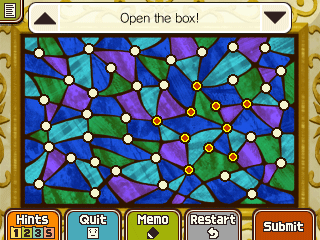 Press the buttons as shown.
[edit]
Progress
1015 Picarats and 91 Hint Coins.