AL033 - Shopping Spree
This is the thirty-third puzzle you'll encounter in Professor Layton and the Azran Legacy. To access this puzzle, you must talk to Brenda Triton. In order to solve this puzzle, you must figure out which food the woman bought at the supermarket.
[edit]
Messages
[edit]
When Failed
Too bad.
Give it another go, and pay close attention to the price of each item.
[edit]
When Completed
That's right!
That was quite the shopping spree! Carrying it all back home can't have been easy!
[edit]
Solution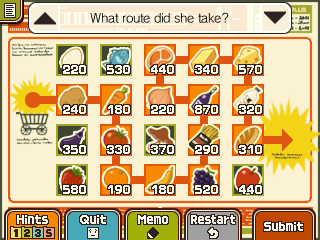 Follow the path as shown.
[edit]
Progress
1085 Picarats and 101 Hint Coins.