AL035 - Fake Fragments
This is the thirty-fifth puzzle you'll encounter in Professor Layton and the Azran Legacy. To access this puzzle, you must talk to Clark Triton. In order to solve this puzzle, you must correctly identify the real artifacts.
[edit]
Messages
[edit]
When Failed
Too bad.
Are you sure you haven't missed anything?
[edit]
When Completed
Well reflected!
Only two of the pieces are actually real! The fact that the photograph was developed the wrong way round made life difficult, but you got there in the end.
The forger must have mixed in some real pieces by mistake!
[edit]
Solution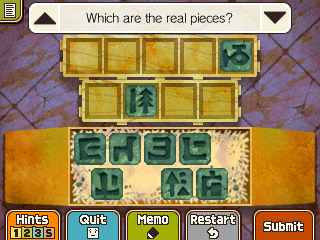 Place the fragments in the boxes as shown.
[edit]
Progress
1145 Picarats and 106 Hint Coins.