AL036 - Fuel's Errand
This is the thirty-sixth puzzle you'll encounter in Professor Layton and the Azran Legacy. To access this puzzle, you must talk to Desmond Sycamore. In order to solve this puzzle, you must connect all the pipes.
[edit]
Messages
[edit]
When Failed
Too bad.
You have to try again! The airship is going to crash if that pipe doesn't get fixed.
[edit]
When Completed
Piping hot!
You've fixed it, but surely it's only a matter of time before such a complicated pipe gets broken again...
[edit]
Solution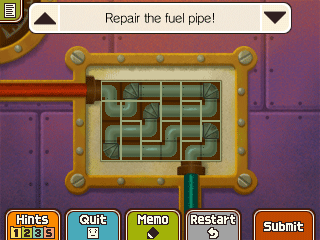 Arrange the pipes as shown.
[edit]
Progress
1185 Picarats and 106 Hint Coins.