AL037 - Fuel's Errand 2
This is the thirty-seventh puzzle you'll encounter in Professor Layton and the Azran Legacy. To access this puzzle, you must talk to Desmond Sycamore. In order to solve this puzzle, you must connect all the pipes.
[edit]
Messages
[edit]
When Failed
Too bad.
Quick! Give it another go! The Bostonius is going to crash if that pipe doesn't get fixed!
[edit]
When Completed
Crisis averted!
Professor Sycamore should really wait until he's firmly on the ground before fiddling around with the airship's engine!
[edit]
Solution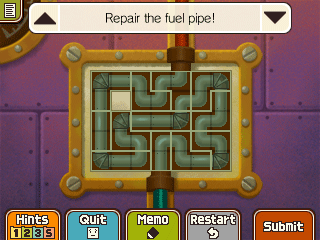 Arrange the pipes as shown.
[edit]
Progress
1235 Picarats and 106 Hint Coins.