AL039 - Strawberry Sharer
This is the thirty-ninth puzzle you'll encounter in Professor Layton and the Azran Legacy. To access this puzzle, you must talk to Prima. In order to solve this puzzle, you must give each child the correct amount of strawberries corresponding to their requirements.
[edit]
Messages
[edit]
When Failed
Too bad.
Read each child's statement carefully once again.
[edit]
When Completed
Juicy!
The most strawberries any child can get is nine, and it's pretty obvious from B's statement that she's a huge fan of strawberries.
If B gets nine strawberries, A gets eight, C gets three and D gets four.
[edit]
Solution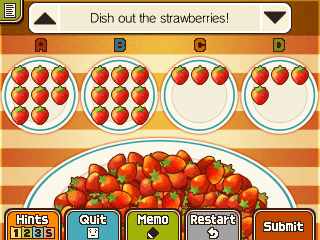 Sort the strawberries as shown.
[edit]
Progress
1285 Picarats and 106 Hint Coins.