AL040 - Acorn Allocation
This is the fortieth puzzle you'll encounter in Professor Layton and the Azran Legacy. In order to access this puzzle, you must talk to Hazel. In order to solve this puzzle, you must figure out which route each squirrel took in order for them to collect the same amount of acorns.
[edit]
Messages
[edit]
When Failed
Too bad.
Take another look at how many acorns each squirrel picked up.
[edit]
When Completed
Nutty!
By taking these routes home, the squirrels each collect 22 acorns on the way.
[edit]
Solution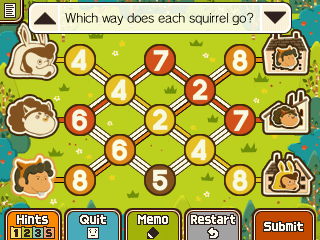 Take the routes as shown.
[edit]
Progress
1315 Picarats and 106 Hint Coins.