AL042 - A Boatload of Hassle
This is the forty-second puzzle you'll encounter in Professor Layton and the Azran Legacy. To access this puzzle, you must talk to Karpin. In order to solve this puzzle, you must divide the timber pallets so that each order contains ten timber logs.
[edit]
Messages
[edit]
When Failed
You cannot fail this puzzle.
[edit]
When Completed
Wood-erful!
It turns out that the boats are going to be used in a floating market - the stall owners will be able to open shop now thanks to you!
[edit]
Solution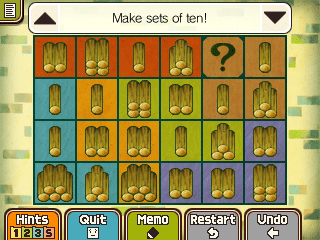 Divide the timber as shown.
[edit]
Progress
1390 Picarats and 106 Hint Coins.