AL043 - A String of Jewels
This is the forty-third puzzle you'll encounter in Professor Layton and the Azran Legacy. To access this puzzle, you must talk to the policeman. In order to solve this puzzle, you must rope the burglars inside rope, separating them from the jewels.
[edit]
Messages
[edit]
When Failed
Too bad.
Make sure you've used every post!
[edit]
When Completed
A glittering success!
That's all the thieves tied up tight!
[edit]
Solution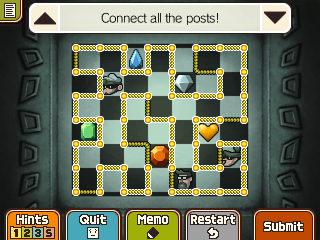 Connect the posts as shown.
[edit]
Progress
1430 Picarats and 111 Hint Coins.