AL046 - Blooming Flowers 2
This is the forty-sixth puzzle you'll encounter in Professor Layton and the Azran Legacy. To access this puzzle, you must interact with the large white flower. In order to solve this puzzle, you must arrange all the flowers in the garden.
[edit]
Messages
[edit]
When Failed
You cannot fail this puzzle.
[edit]
When Completed
Thistle do it!
What a beautiful garden! Both the family and their goats will be very happy!
[edit]
Solution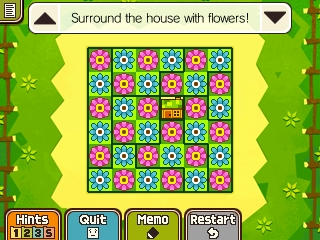 Arrange the flowers as shown.
[edit]
Progress
1550 Picarats and 114 Hint Coins.