AL047 - Fowl Food
This is the forty-seventh puzzle you'll encounter in Professor Layton and the Azran Legacy. To access this puzzle, you must talk to Button. In order to solve this puzzle, you must figure out which fruits the bird ate on each day.
[edit]
Messages
[edit]
When Failed
Too bad.
Think carefully about which bird boxes the bird ate from each day.
[edit]
When Completed
That's right!
The bird may not have a balanced diet on a day-to-day basis, but over the week it almost evens out.
[edit]
Solution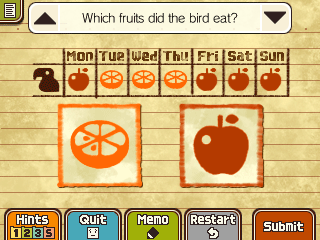 Arrange the fruits as shown.
[edit]
Progress
1590 Picarats and 121 Hint Coins.