AL049 - Fussy Fruit Eaters
This is the forty-ninth puzzle you'll encounter in Professor Layton and the Azran Legacy. To access this puzzle, you must talk to Button. In order to solve this puzzle, you must give the children the correct fruit according to their requirements.
[edit]
Messages
[edit]
When Failed
Too bad.
Look at the children's demands closely and give it another go.
[edit]
When Completed
Totally tropical!
You can satisfy all the children's demands if you give three yellow pieces of fruit to A, once piece of green fruit to B and two pieces of blue fruit to C!
[edit]
Solution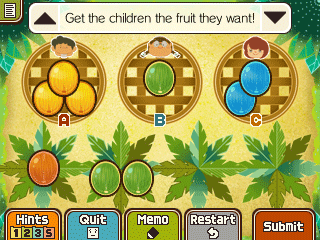 Arrange the fruit as shown.
[edit]
Progress
1660 Picarats and 128 Hint Coins.