AL053 - The Domino Effect
This is the fifty-third puzzle you'll encounter in Professor Layton and the Azran Legacy. To access this puzzle, you must talk to Amelie Chelmey. In order to solve this puzzle, you must figure out which stone to push in order for all the stones to fall.
[edit]
Messages
[edit]
When Failed
Too bad.
Inspect the photograph very closely - every nook and cranny...
[edit]
When Completed
A bumper harvest for you!
Pushing over the huge rock in the top right is guaranteed to make all the others topple over.
Looks like it's going to be a good year!
[edit]
Solution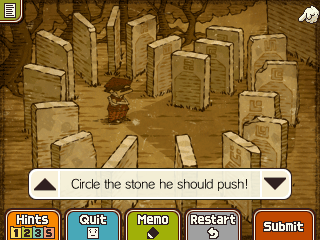 Circle the stone as shown.
[edit]
Progress
1815 Picarats and 134 Hint Coins.