AL056 - Give Me a Sign! 2
This is the fifty-sixth puzzle you'll encounter in Professor Layton and the Azran Legacy. To access this puzzle, you must interact with the signpost. In order to complete this puzzle, you must construct the sign in order to figure out which direction it's pointing out.
[edit]
Messages
[edit]
When Failed
Too bad.
Have another look at the sign and make sure you're not missing anything.
[edit]
When Completed
That's right!
The exposed part of the signboard got a bit faded by the sun.
If they take a right at this junction, they should be able to make it out of the forest!
[edit]
Solution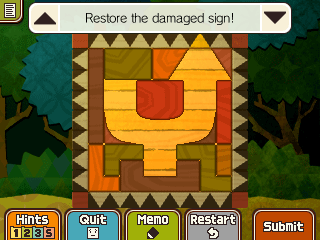 Restore the sign as shown.
[edit]
Progress
1925 Picarats and 147 Hint Coins.