AL057 - A Boatload of Trouble
This is the fifty-seventh puzzle you'll encounter in Professor Layton and the Azran Legacy. To access this puzzle, you must talk to Bud. In order to solve this puzzle, you must divide the timber pallets into six groups of ten timber logs.
[edit]
Messages
[edit]
When Failed
You cannot fail this puzzle.
[edit]
When Completed
Crafty!
Without those boats, the merchants' profits would have taken a real dive!
[edit]
Solution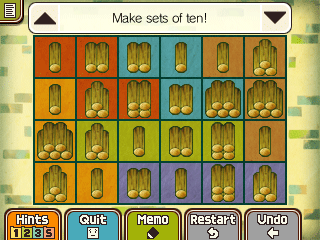 Divide the timber as shown.
[edit]
Progress
1965 Picarats and 147 Hint Coins.