AL065 - Cards on the Table
This is the sixty-fifth puzzle you'll encounter in Professor Layton and the Azran Legacy. To access this puzzle, you must talk to Derringer. In order to solve this puzzle, you must figure out which card holds the diamond.
[edit]
Messages
[edit]
When Failed
Aw, shoot.
Don't automatically assume that every card has a symbol on one side and a green pattern on the other, gunslinger!
[edit]
When Completed
"Yee-haw!
The club is the card you need to turn over. Once you realise that one of old Derringer's cards is double-sided, this puzzle becomes a lot easier. Ain't that right, miss?"
[edit]
Solution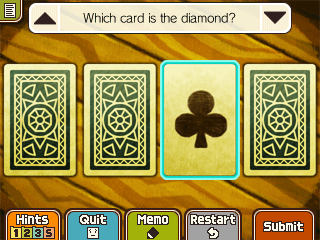 Turn over the card as shown.
[edit]
Progress
2205 Picarats and 172 Hint Coins.