AL069 - Bibliofiling 2
This is the sixty-ninth puzzle you'll encounter in Professor Layton and the Azran Legacy. To access this puzzle, you must interact with the books above the stove. In order to solve this puzzle, you must arrange the books so that each row and column contains the correct amount of books.
[edit]
Messages
[edit]
When Failed
Too bad.
Make sure that each row and column has the correct number of books in it!
[edit]
When Completed
A job well done!
All the books are right back where they're supposed to be.
Well, at least until the next borrower comes along!
[edit]
Solution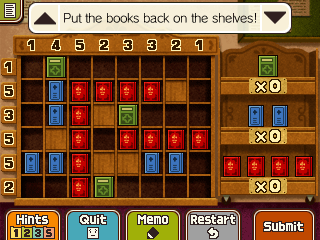 Arrange the books as shown.
[edit]
Progress
2355 Picarats and 182 Hint Coins.