AL074 - Pampering Your Pets
This is the seventy-fourth puzzle you'll encounter in Professor Layton and the Azran Legacy. To access this puzzle, you must talk to Beatrix. In order to solve this puzzle, you must correctly identify each pet's favorite treat.
[edit]
Messages
[edit]
When Failed
Too bad.
Try using the Memo Function if you find things confusing.
[edit]
When Completed
Pet-tacular!
A likes ice cream, B likes pie, C likes chocolate and D likes cake.
It turns out the pets weren't pets at all! Just as well, really - not one of those treats is suitable for animals!
[edit]
Solution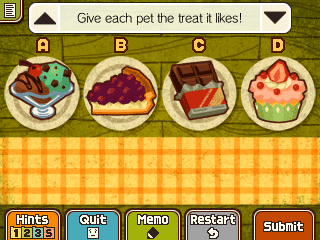 Arrange the treats as shown.
[edit]
Progress
2525 Picarats and 192 Hint Coins.