AL076 - Troubled Waters
This is the seventy-sixth puzzle you'll encounter in Professor Layton and the Azran Legacy. To access this puzzle, you must interact with the radio. In order to solve this puzzle, you must construct a safe bridge using the debris.
[edit]
Messages
[edit]
When Failed
You cannot fail this puzzle.
[edit]
When Completed
Scrap-tastic!
The villagers should be able to use this makeshift bridge for the time being. Still, it'd be good to get the real bridge back in action as soon as possible.
[edit]
Solution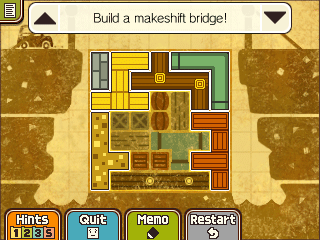 Arrange the scrap as shown.
[edit]
Progress
2590 Picarats and 200 Hint Coins.