AL078 - All Under Control
This is the seventy-eighth puzzle you'll encounter in Professor Layton and the Azran Legacy. To access this puzzle, you must interact with the altar. In order to solve this puzzle, you must expose all nine cylinders by pressing one button.
[edit]
Messages
[edit]
When Failed
You cannot fail this puzzle.
[edit]
When Completed
Well don!
The device should work properly now!
[edit]
Solution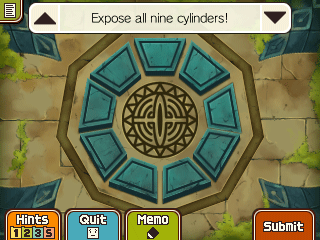 Push the button as shown.
[edit]
Progress
2665 Picarats and 204 Hint Coins.