AL080 - Golden Butterfly 2
This is the eightieth puzzle you'll encounter in Professor Layton and the Azran Legacy. To access this puzzle, you must interact with the giant moth. In order to solve this puzzle, you must create a concoction to attract a golden butterfly.
[edit]
Messages
[edit]
When Failed
You cannot fail this puzzle.
[edit]
When Completed
Dazzling!
You finally laid eyes on the magnificent golden butterfly! Isn't it beautiful?
[edit]
Solution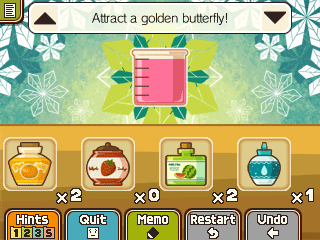 Use the ingredients as shown.
[edit]
Progress
2750 Picarats and 218 Hint Coins.