AL081 - Moonlight, Starlight
This is the eighty-first puzzle you'll encounter in Professor Layton and the Azran Legacy. To access this puzzle, you must talk to Mehri. In order to solve this puzzle, you must figure out where the moon is located on the lampshade.
[edit]
Messages
[edit]
When Failed
Too bad.
Looking at the position of the star, as well as how the lampshade will fold together, is the key to working out where the moon needs to go.
[edit]
When Completed
Nice lamp, champ!
The panel in the very bottom left is the spot where the moon needs to go. What a lovely warm glow!
[edit]
Solution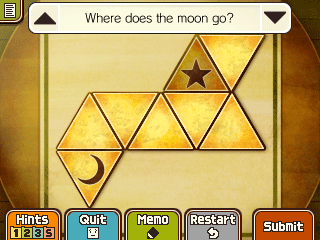 Place the moon on the panel shown.
[edit]
Progress
2780 Picarats and 224 Hint Coins.