AL083 - Snake Squeezing x11
This is the eighty-third puzzle you'll encounter in Professor Layton and the Azran Legacy. To access this puzzle, you must talk to Temir. In order to solve this puzzle, you must fit all the snakes snugly into the pot.
[edit]
Messages
[edit]
When Failed
You cannot fail this puzzle.
[edit]
When Completed
Ssssensssational!
They're all snug inside the pot! Although, they might struggle to get out again when they hear their favourite tune now...
[edit]
Solution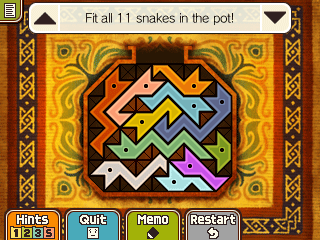 Arrange the snakes as shown.
[edit]
Progress
2870 Picarats and 228 Hint Coins.