AL085 - The Phoenix Wakes
This is the eighty-fifth puzzle you'll encounter in Professor Layton and the Azran Legacy. To access this puzzle, you must interact with the sluice gate. In order to solve this puzzle, you must correctly place the stones to break the chains.
[edit]
Messages
[edit]
When Failed
You cannot fail this puzzle.
[edit]
When Completed
Stellar work!
The power of the star stones has freed the phoenix and put an end to its slumber.
[edit]
Solution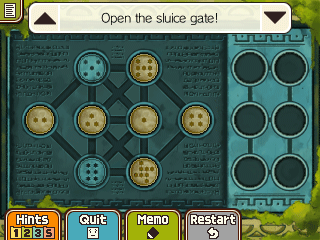 Arrange the stones as shown.
[edit]
Progress
2930 Picarats and 228 Hint Coins.