AL090 - Very Specific Scoops 2
This is the ninetieth puzzle you'll encounter in Professor Layton and the Azran Legacy. To access this puzzle, you must talk to Miranda. In order to solve this puzzle, you must correctly construct the ice cream according to the requirements.
[edit]
Messages
[edit]
When Failed
Too bad.
Trying switching things around a bit.
[edit]
When Completed
Ice cold!
The only ice cream that would satisfy this pernickety Percy's demands contains the following flavours from the top down:
Lemon (B)
Mint choc chip (C)
Chocolate (D)
And doesn't he look elated!
[edit]
Solution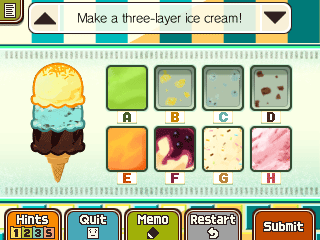 Make the ice cream as shown.
[edit]
Progress
3135 Picarats and 240 Hint Coins.