AL094 - Tethered Ted
This is the ninety-fourth puzzle you'll encounter in Professor Layton and the Azran Legacy. To access this puzzle, you must talk to Amelie Chelmey. In order to solve this puzzle, you must choose the correct string to pull in order to win the bear.
[edit]
Messages
[edit]
When Failed
Too bad.
Look carefully at which rope is tied to which prize.
[edit]
When Completed
Inteddible!
You got it! This teddy was made by a famous toymaker. No two are ever alike!
[edit]
Solution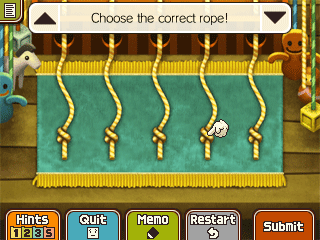 Circle the rope shown.
[edit]
Progress
3275 Picarats and 240 Hint Coins.