AL095 - Troubled Waters 2
This is the ninety-fifth puzzle you'll encounter in Professor Layton and the Azran Legacy. To access this puzzle, you must talk to Flint. In order to solve this puzzle, you must create a bridge using the provided debris.
[edit]
Messages
[edit]
When Failed
You cannot fail this puzzle.
[edit]
When Completed
Scrap-tacular!
That should provide the locals with a way to cross the river while the bridge is being repaired.
[edit]
Solution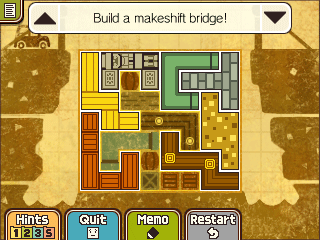 Arrange the scrap as shown.
[edit]
Progress
3315 Picarats and 240 Hint Coins.