AL096 - Perplexing Patterns
This is the ninety-sixth puzzle you'll encounter in Professor Layton and the Azran Legacy. To access this puzzle, you must talk to Sheppard. In order to solve this puzzle, you must fit all the cube nets onto the paper.
[edit]
Messages
[edit]
When Failed
You cannot fail this puzzle.
[edit]
When Completed
Great work!
You've shown how you can make eight cute boxes from this awkwardly shaped piece of card - and without wasting any of it, either!
[edit]
Solution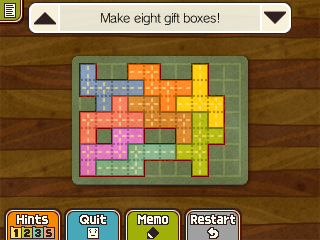 Create the gift boxes as shown.
[edit]
Progress
3355 Picarats and 240 Hint Coins.