AL098 - A Troublesome Tent
This is the ninety-eighth puzzle you'll encounter in Professor Layton and the Azran Legacy. To access this puzzle, you must talk to Rik. In order to solve this puzzle, you must correctly arrange the tent pieces so that each side touches another side of the same pattern.
[edit]
Messages
[edit]
When Failed
Too bad.
Have you worked out which piece is the unnecessary one? Maybe try doing that first.
[edit]
When Completed
You're a happy camper!
You've managed to repair the tent, and what a colourful tent it is!
[edit]
Solution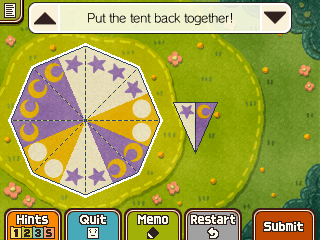 Repair the tent as shown.
[edit]
Progress
3415 Picarats and 240 Hint Coins.