AL099 - Brownie Points
This is the ninety-ninth puzzle you'll encounter in Professor Layton and the Azran Legacy. To access this puzzle, you must talk to Amelie Chelmey. In order to solve this puzzle, you must arrange the brownies in order to create something the girl likes.
[edit]
Messages
[edit]
When Failed
You cannot fail this puzzle.
[edit]
When Completed
Big brownie points!
The young man's girlfriend is clearly a big cat lover. This should cheer her up and put the man back in her good books!
[edit]
Solution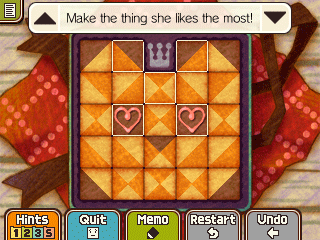 Arrange the brownies as shown.
[edit]
Progress
3445 Picarats and 240 Hint Coins.