AL102 - Troubled Waters 3
This is the one hundred and second puzzle you'll encounter in Professor Layton and the Azran Legacy. To access this puzzle, you must talk to the policeman. In order to solve this puzzle, you must use the debris to construct a bridge.
[edit]
Messages
[edit]
When Failed
You cannot fail this puzzle.
[edit]
When Completed
Well, wood you believe it!
It's not ideal, but it should do for now. Let's leave the rest to the villagers. You don't want to be doing all the hard work, do you?
[edit]
Solution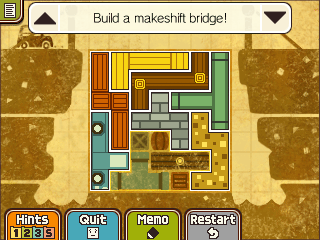 Arrange the scrap as shown.
[edit]
Progress
3585 Picarats and 242 Hint Coins.