AL106 - Tethered Ted 2
This is the one hundred and sixth puzzle you'll encounter in Professor Layton and the Azran Legacy. To access this puzzle, you must talk to Aldus. In order to solve this puzzle, you must figure out which piece of rope must be pulled to win the teddy bear.
[edit]
Messages
[edit]
When Failed
Too bad.
Pay very close attention to what's displayed on screen.
[edit]
When Completed
Nice work!
Looks like you've got yourself a fluffy new friend! That was a pretty cruel puzzle, but clearly no match for you!
[edit]
Solution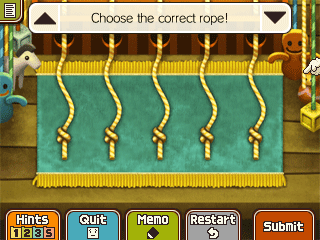 Pull the rope as shown.
[edit]
Progress
3745 Picarats and 242 Hint Coins.