AL108 - The Path of True Love
This is the one hundred and eighth puzzle you'll encounter in Professor Layton and the Azran Legacy. To access this puzzle, you must talk to Jesse. In order to solve this puzzle, you must figure out which road must be taken in order to reach the other town by daytime.
[edit]
Messages
[edit]
When Failed
Too bad...
Try using the Memo Function to make life easier.
[edit]
When Completed
Happy motoring!
Mr A must be really smitten with Miss B! He's even brought her a lovely bunch of roses.
[edit]
Solution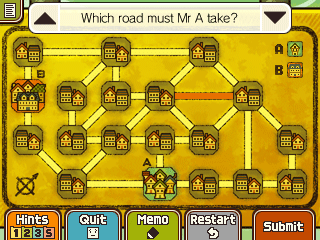 Select the path shown.
[edit]
Progress
3825 Picarats and 242 Hint Coins.